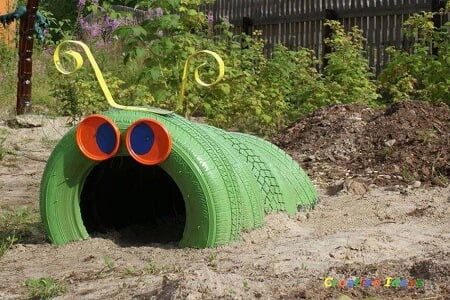 One of the most loved activities on the playground, kids love playing inside a tunnel created by huge tyres. Don't worry; plenty of sand on the ground is there to keep them safe.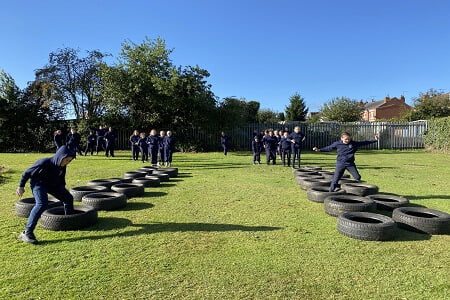 If you have seen a lot of thrillers and want to feel like an action hero, well, hopping on tyres while trying to cross on to the other side will surely make you feel like one.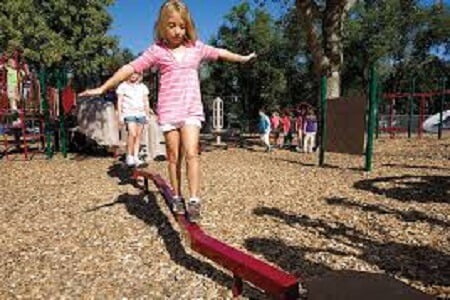 Try to find out if you had it in you to be a world-class gymnast like Simone Biles by getting on to a balancing bean in our fun zone.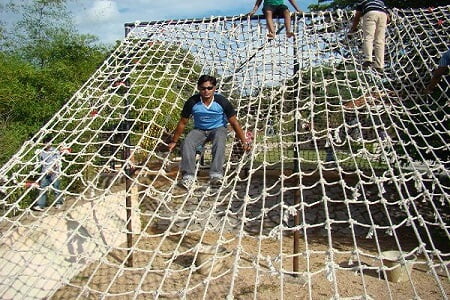 If doing something physically hard gets your adrenaline going, climbing up on the commando net will surely get that pumping. If you are of competitive nature, having a go at it with your colleagues or friends will surely amp up this activity up a notch.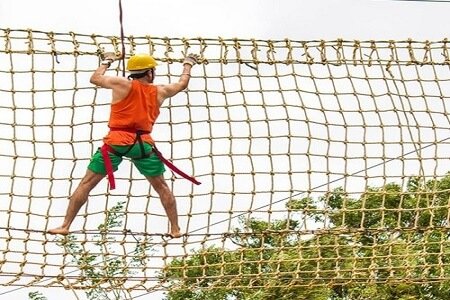 Commando Net Traverse Wall
Another extended activity to bring in the rush of adrenaline is the commando net traverse wall. One of the most liked activities for team building exercises; this can bring out the competitive side of many of you.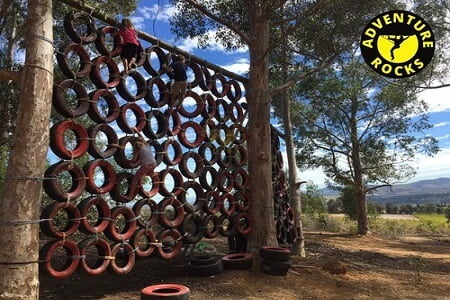 If net wall traversing wasn't enough for you, try out your hand at the tyre traverse wall at our fun zone. It is a falsely built wall constructed from tyres and has holes to be climbed using hands and feet. This activity is a little bit physically demanding and would test your patience as well as nimbleness. Though, we have seen the little ones jump to the other side faster than adults, just saying. But, patience will help you cross to the other side. Double Rope Bridge: If you are a true adventurer, we are definitely sure that this double rope activity will make you feel all exhilarated! As the name specifies, the bridge is held together by two ropes, and you have to balance yourself on one single rope while trying to reach the other side. It is a physically challenging activity and requires a lot of focus.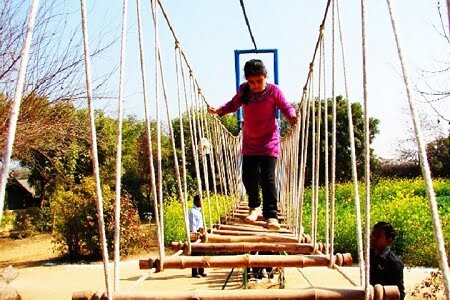 If you are a fan of Mission Impossible movies, this activity would require you to bring out the Tom Cruise in you. The planks are suspended in the air while supported by the ropes on both ends. If you decide to try this, make sure you don't lose focus. Also, don't forget that you are the Tom Cruise of your own story.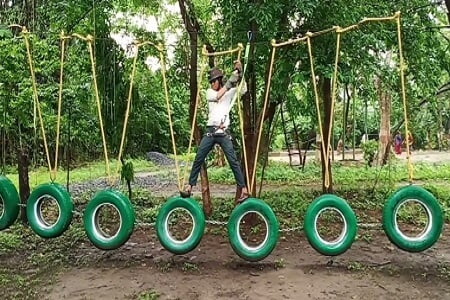 This is one the most popular activities in the low hanging rope elements category. Here, the tyres are suspended using cables and ropes and the participant has to move on from one suspended tyre to another to cross the bridge. This is a fun activity for a group as you can help each other cross to the other side. If you are coming for a team-building outing, this activity is a must-try.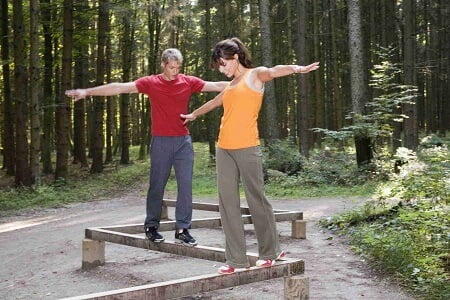 Another fun way to test your balance is to try walking in a zig-zag fashion on wooden beams nailed to the floor. If you loved our balancing beam activity, you would love this one too. But do know that this one is a bit harder than that one. So, bring your patience along!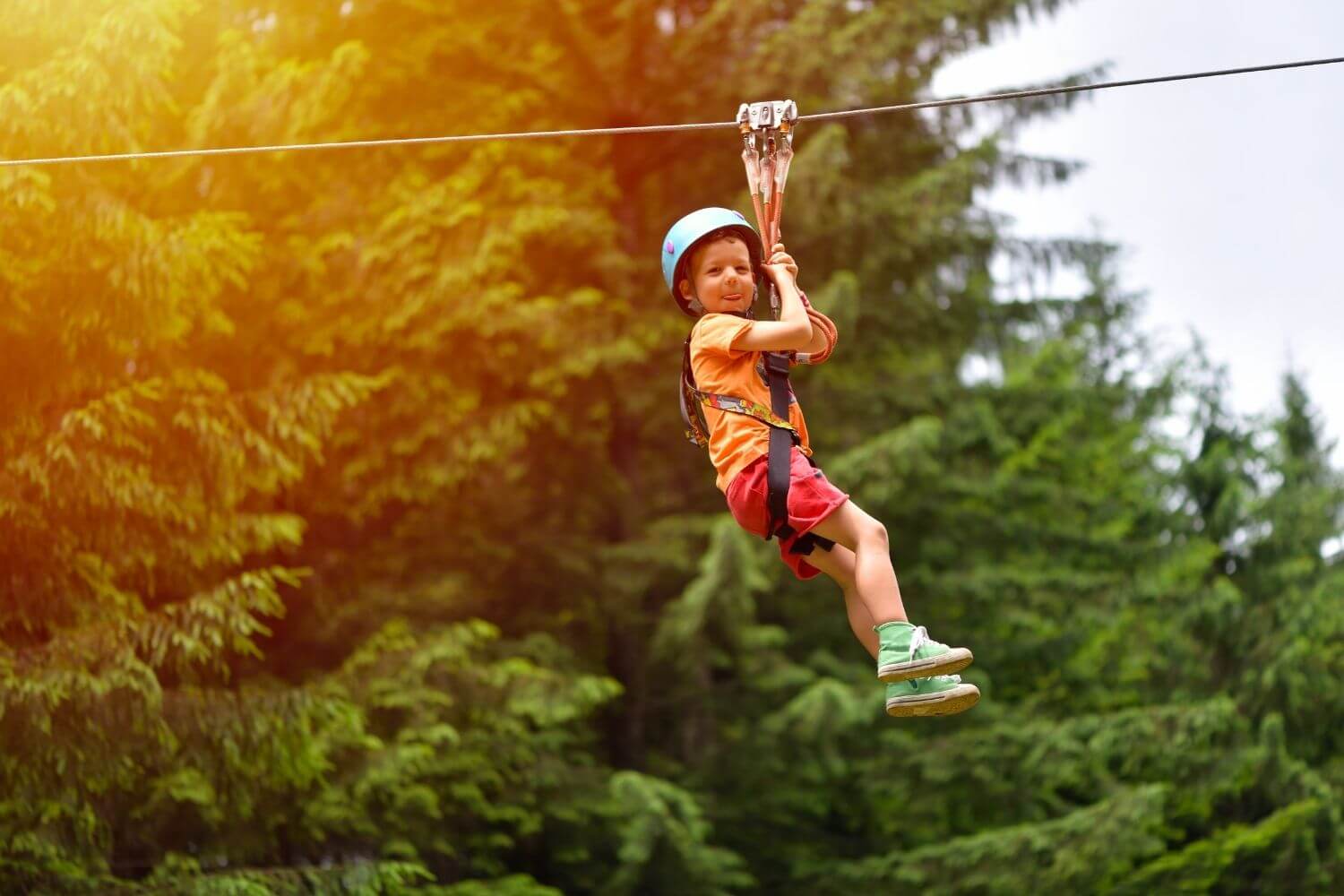 Have you always wanted to know how it feels to fly? Our ziplining activity at Brajdham Farms can make your dream come true. Well, it gets pretty close. A fun activity where you can zoom from one side to the other while being suspended on a cable, tied to two poles on each end. Also known as Flying Fox, Zip Wire or Aerial Runway, when you zoom through the air, you will leave all your worries behind and simply enjoy the nature all around.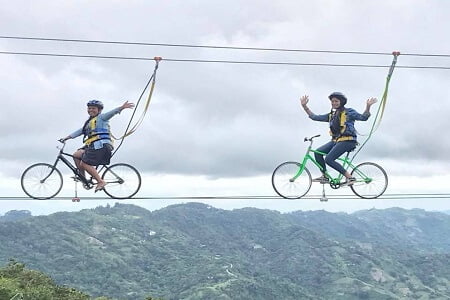 Okay, if you thought walking on planks suspended in the air was enough to get your adrenaline pumping, get ready to hop onto a bicycle and balance it on a tightly strung rope. Yes, you read it right. You have to cross the bridge while biking on a rope-suspended bridge. And it is definitely on the list of many adventurers as a must-try activity.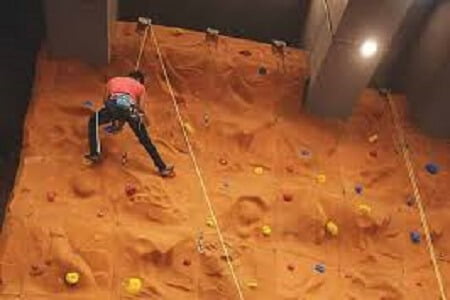 Always wanted to go out and try your hand (and feet) at mountain climbing? Well, here's your chance! At Brajdham Farms, we have a huge artificial wall constructed with grips that can help you find your potential.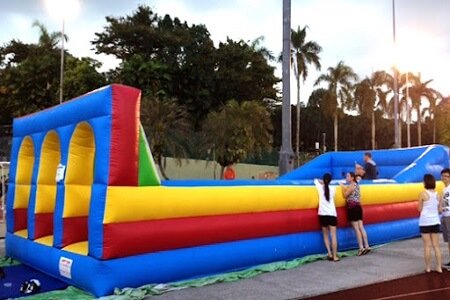 If you or your kids love bouncy houses, we have a pleasant surprise for you – a better and bigger bungee run house! It is exactly like a bouncy house, but you have to run through the same to get to the other side. This will surely bring out your inner child.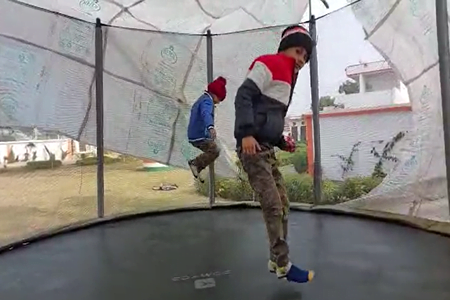 Another super fun activity at Brajdham Farms where you can enjoy the feeling of flying freely in the air. The giant trampoline in our fun zone will help you touch the skies and your inner, happy child.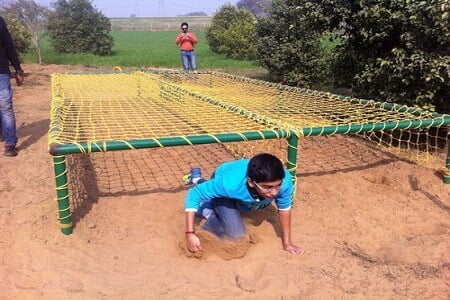 Well cadet, get ready to get on the floor and crawl through this obstruction! Have you seen how toddlers use their hands and knees to crawl across the floor? That is exactly what this activity has in store for you, but in a little challenging way! If you are coming with your friends or colleagues, commando crawl should be a must-try activity on your list.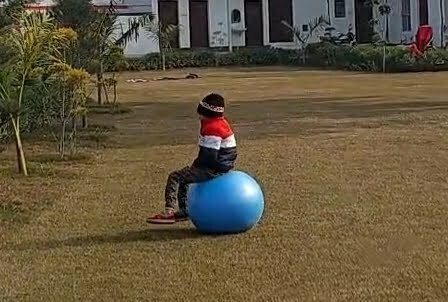 Do you remember the school annual days when you ran inside a sack? Well, we have made that game a lot more fun! With Happy Hopper, just like a sack race, you have to hop on huge, inflated balls that are going to bring around the laughter and happiness all around. Whether you are an adult or a kid, we are sure that everyone would love to participate in the Happy Hopper race!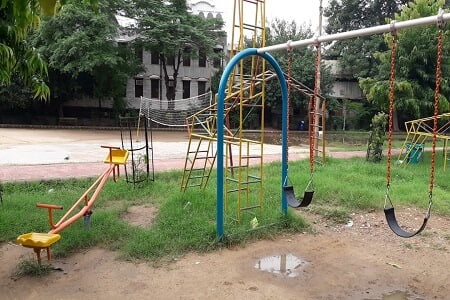 At Brajdham Farms, we are bringing the laughter and happiness you felt when you were in the playground in your childhood and adolescence days. And what better than reliving those days with your friends by hopping on to our sets of double block swings!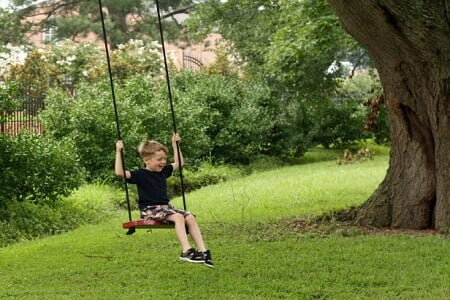 If you are one of those adrenaline junkies, our Swinging Plank is sure to have you all pumped up! Crossing the bridge, made up of high-intensity ropes and planks, while suspended in air by cables is going to test your physical and mental strength.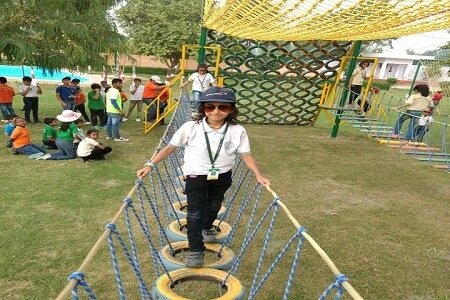 Another fun game in our kitty is the tyre balance bridge. Hop on from one tyre to another with the help of the ropes suspended in the air and enjoy this thrilling activity with your family, friends or teammates.